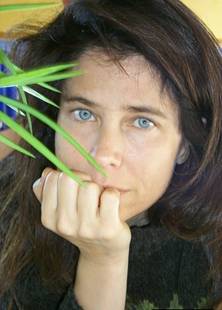 BIO FOR CINDY MASON
Dr. Cindy Mason, Ph.D., is certified by the State of California as an instructor of health education and occupational health education. She is also a state certified acupressurist. She recently developed a series of Self-Care courses including topics in Basic Daily Health, Adaptive Eastern Modalities, and Critical Care. She teaches and lectures at clinics, corporate settings, and at community health and cultural centers in the San Francisco Bay Area. She works with patients at Stanford Hospital, Lucille Salter Packard Children's Hospital and Kaiser Redwood City. Her internship as an acupressurist was at Berkeley Primary Care, a day clinic in the Oakland/Berkeley border of California that serves the homeless and uninsured, where a wide variety of illnesses were seen daily. She also spent time working with Tenzeng Choedrak, physician to HRH Dalai Lama, and his medical group, while they visited the United States.

She has been a research scientist at U.C. Berkeley and a fellow at the Stanford School of Medicine. While at U.C. Berkeley, Dr. Mason was studying ways to model mental state. During this time, she suffered health problems and found little in the way of conventional medicine that seemed to help. She began to study the relationship of mental state, brain chemistry and bodily health , and incorporated ideas of emotions and belief into her work on mental state.
She became certified in acupressure, specializing in a form of Japanese acupressure known as physiophilosophy that directly correlates attitudes of mental and emotional state with physical health. In addition to her teaching and research, she see patients at local hospitals in the San Francisco area and has created a strong teaching program for Self Care in her community in the San Francisco Bay Area, including tai chi and chi kung for the chair and Japanese Self Care. Her courses focus on the needs of the elderly and how to survive without access to medical care.
She has published most recently on Global Medical Technology and will be a panelist in Boston's Institute for Future Healthcare Technology 2003 Summit. She continues her studies of chi gong with Master Zi Sheng Wang, www.tibetanqigong.org who was voted Most Outstanding Medical Qigong Practitioner in China, 1998, as well as her meditation practice in mindfulness.
She has received many awards for her work, including a Nationa Research Council
Associateship (many Nobel prize winners received this early in their careers) Stanford University School of Medicine, Outstanding Young Woman in America, Who's Who in Science and Engineering.
GETTING RESULTS

Using methods from Japan that center on attitudes and emotions, Dr. Mason and a team of practioners saved insurers significant financial expense and shaved weeks of recovery time from expected hospital stays in stem cell transplant patients with aggressive cancers at Stanford Hospital. Results of this work were reported in a late breaking abstract for the 2003 PsychoNeuroimmunology Research Society. The picture below was taken at Stanford University Hospital and shows Dr. Mason with stem cell patient "Patty" (picture is included with patient permission). Dr. Mason believes using high-tech medicine along side ancient healing arts is part of a growing trend toward innovative solutions to the health crisis.
Dr. Mason teaches Self Care courses that help empower individuals to help themselves.

In her Tai Chi Chair course, developed with Instructor Kathleen Davis from the Acupressure Institute in Berkeley, California, students integrate Self Care acupressure (based on the same Japanese methods used with patients) into a Tai Chi/Chi Gong exercise set that can be done from a seated position. The pictures below shows Dr. Mason demonstrating the Self Care material during a lecture at Palo Alto's Cubberly Communication Center. The audience includes all ages, incomes, and abilities.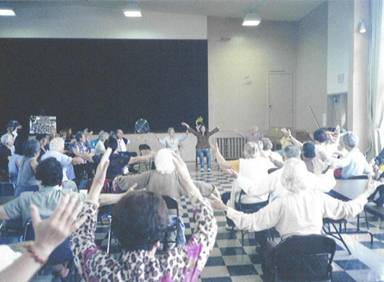 Return to www.21stcenturymed.org